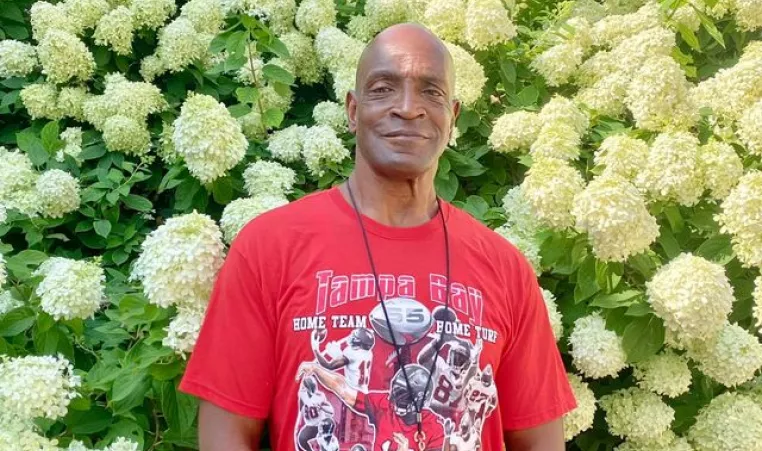 Bruce grew up in the sunshine state with his four siblings and his Mother. He describes his mother as a homemaker, a kind woman who had a love for baking.  "My mom was always so proud and supportive of me; always making me work hard and focus on the one thing that I loved the most in life, football."
Bruce began playing football at the age of five. His immediate attraction to the game was the speed and adrenaline he felt when on the field. In high school, his athletics kept him on track academically by enforcing the requirement for a high GPA in order to play in games. Bruce remembers high school fondly, describing it as one of the greatest times in his life. Bruce's mom had always dreamed of her son going to college on scholarship; during his senior year in high school that dream came true. Multiple college scouts watched him play and later came to his house offering full ride scholarships. He received offers from  Florida State, Uni and Kentucky.  Bruce followed his dream to UNI, as he had always wanted to play under the bright lights of the UNI-Dome. After playing college football for four years, Bruce proudly graduated with his degree in business administration in the late 1970's.
After college, Bruce moved back to Florida where friends of his who played professional football introduced him to the Tampa party scene. He explained how on the streets in Tampa drugs were readily accessible at all times. He never planned on becoming an addict but once he tried crack cocaine for the first time he became hooked on the feeling of the fast life, a similar feeling that he had gotten from playing football all those years prior. Bruce was an addict for nearly 20 years until one day he had a heart attack from using. He immediately began going to meetings and was determined to get clean and away from the fast lane that he knew would ultimately kill him. On his 90th day of sobriety, Bruce was walking down the street and was offered crack cocaine by a dealer standing on the corner. Bruce came close to saying yes to using again that day, however he instead called his sister who lived in Waterloo to ask if he could stay with her while he was in recovery. She agreed and Bruce packed up his things and headed back to Iowa. In Waterloo, Bruce did not find the safety and security he needed for his recovery; drugs were still readily available and he knew that this was a risk to his sobriety. That is when, around seven years ago, he moved to Des Moines. He ended up staying at the Central Iowa Shelter and Services for an entire year while waiting to get into the YMCA Supportive Housing Campus. When he first moved into his apartment he enjoyed the choices that he had.  For the first time in a year he could sleep in, have his own private space and come and go as he pleased. He described this new found freedom and security as "living on easy street".
Bruce still deals with his addiction every single day. He recently lost his sister, who was his rock after his mom died which triggered his desire to use again. Bruce keeps a token as a reminder of his past and all of the trials and tribulations that addiction caused in his life; when he is struggling, he squeezes it really tight, helping him to stay sober.
Since moving to Des Moines, Bruce has gone from experiencing homelessness and living at the shelter to having a place to call home and working at the shelter part time. He enjoys his job and is always willing to do the extra work in order to earn more hours. Currently, he is focusing on saving money and working on his financial stability. In his free time, you will often find him at NA meetings, at the gym working on his health or chatting with his neighbors at the YSHC.