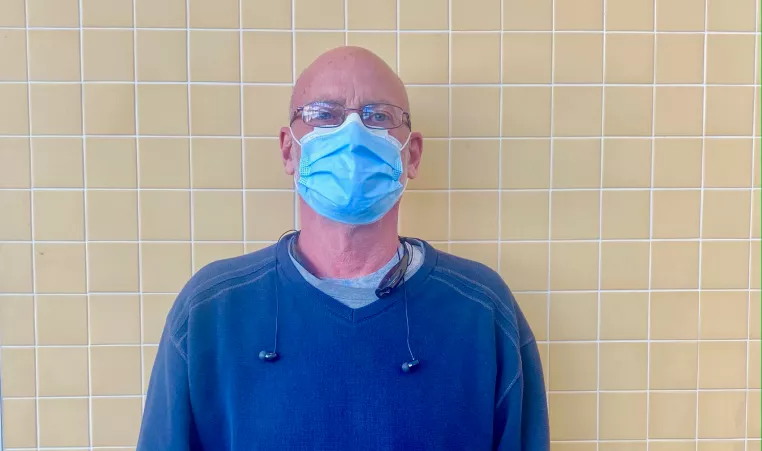 Joe grew up over 800 miles from Des Moines in the heart of Knoxville, Tennessee. It was there that he lived through life's many adventures as well as its challenges before eventually finding his home here at YSHC.
From a young age, Joe took pride in working hard and making an honest earning for himself. At age 15 he and a friend began working in a bakery for 90 cents an hour. However, coming from a family of entrepreneurs, Joe quickly knew that he wanted to develop a trade and work towards owning a business one day. His father owned a jewelry and engraving store where Joe worked in the basement engraving trophies and plaques, but Joe wanted to engrave on finer items like silver.
One day, two women that he worked with did not show up for their shift and an order for an engraved silver cross was due. Although he was never trained in silver engraving, he took on the challenge by imitating what he had seen others do and engraved the cross with ease. From then on he worked day and night perfecting his craft. At the age of 18, Joe was known as the man who could engrave anything; folks traveled long distances just to bring him items others said were impossible to do.
In 1981, right before the World's Fair, Joe opened his own jewelry customization and engraving store. His reputation preceded him as an honest man who cared deeply about his clients. His business grew and grew, even when the street was torn up and it was nearly impossible to get to his door; people still came. Joe pulled out an old business card to show us. On it, it said, "My word is my bond, an olde tyme perfectionist that believes in quality at a fair price".  
Joe's commitment to his customers and quality meant long days and little sleep. It was only him and one other man in his shop working seemingly non-stop day and night. This left Joe's body beaten down and exhausted. Years went by until one day a good friend of his came in and said, "Joe, if you do not go to the hospital, I am going to take you myself". 
As Joe described it, "I burnt out my candlestick out the bottom and through the middle." Joe knew that he could no longer continue to live the life he was living, so he went to a fellow engraver who he knew and made a deal. Joe would give them all of his equipment and customers in exchange for a percentage for 5 years. Joe, a trusting man, shook on this agreement and took the individual's word that they would follow through on the arrangement. Not long after, they left without a word, taking all of Joe's equipment. 
This ultimately left Joe homeless, bouncing from place to place. He lived in different storage sheds from time to time but never stayed anywhere for long. Once he arrived in Des Moines he stayed in multiple shelters before eventually calling the YMCA Supportive Housing Campus his home. As Joe spoke about what he loves most about living here, he said, "The security of a safe place and a warm meal". He enjoys no longer worrying about food insecurity or not having a bed to sleep in. Not only does he finally have a home, but a community to belong to.
Joe is a man who is passionate about what he has accomplished. Ask him about his trade and his eyes will shine brighter than the sun on a clear summer's day. After a lifetime of work scattered with several challenging moments, Joe is happy to finally be able to enjoy a life no longer filled with hardship, but happiness and health.