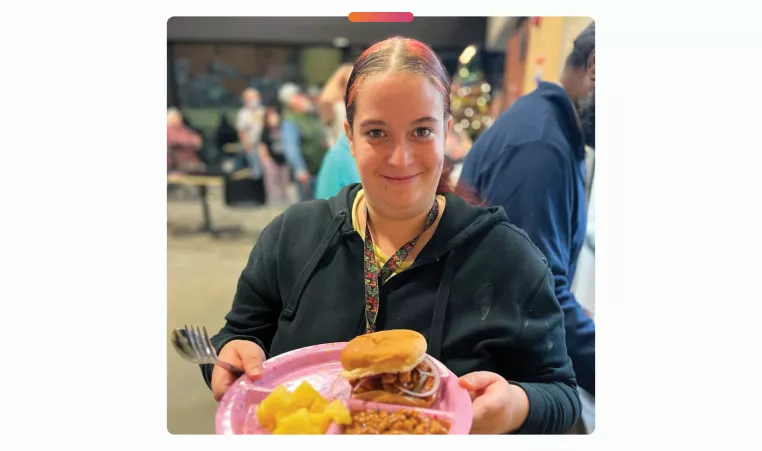 Kim has been presented with challenges in life that would dim anyone's light. Yet, she remains a beam of hope at the YMCA Supportive Housing Campus and in the lives of others who know her.
At an early age, she and her two siblings were removed from their home by DHS after signs of abuse were discovered. Kim, her brother, and her sister were placed in foster care. After experiencing difficulty finding a placement that was a suitable fit, Kim spent most of her time at the youth shelter in Des Moines, previously known as YESS. This is how Kim first met Katie, the YSHC Executive Director, who at that time was the Chief Operations Officer for the shelter. While Kim experienced an unstable and transient home life, she found joy in the social atmosphere at school where she participated in soccer and gymnastics. She worked hard to maintain her grades so that she could attend sporting events and proudly graduated in 2014 with aspirations of becoming a nurse.
Her plans changed when she became pregnant with her first child, J. Kim would go on to have two more children over the next few years. At the time, Kim lived in a group home— an environment that would make it difficult to raise her children. Wanting the best life for her kids, she made the difficult decision to terminate her parental rights. Kim still dreams of being a mother and having a stable family; but for now, her main focus is on financial stability and maintaining her housing.
From foster care to youth shelters and group homes, Kim has never had a place to truly call her own until she came to the YSHC. She was ecstatic when she received the phone call notifying her that an apartment had become available. She was even more excited to be welcomed by a familiar face on her first day in her new home, the YSHC Executive Director, Katie.
Thriving in social settings, she enjoys the resident life activities offered at the YSHC such as community meals, groups and classes, bingo nights, and Birthday Bashes. Kim is happy to be a part of a safe community where she feels secure, included, and encouraged to work towards her goals and dreams. After years of abuse and multiple cases of assault, Kim has every reason to have distrust in the world and in others, but the way she experiences life is just the opposite. She is welcoming and kind towards anyone she meets. She chooses to be happy, knowing she only has one life to live, and wants to live it to the fullest. If you stop by to volunteer, you will more than likely be welcomed with a bright "Hello!" from Kim as soon as she sees you. She is a bright part of the community and one of the 149 individuals who make our campus a HOME.