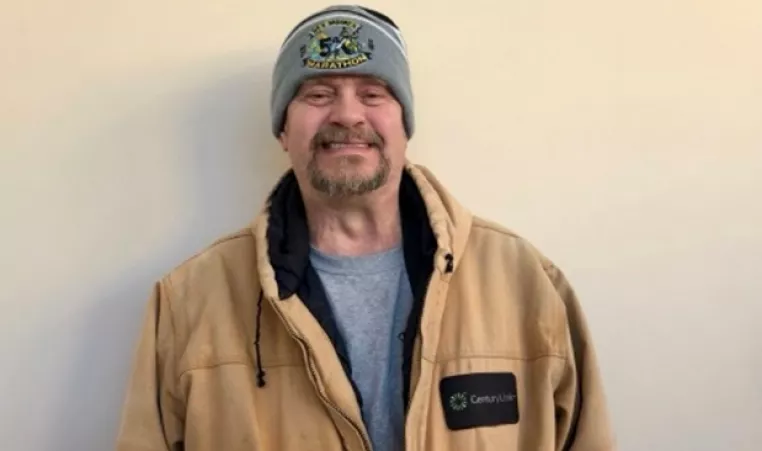 After 3 decades, Mark finally finds a place to call home
"All I want is the time back," Mark reflects as he describes nearly three decades living on the streets in cities across the country. While he knows he cannot change his tumultuous past experiences, Mark says his future now holds the hopeful promise of stable housing and working towards independent living – a new life made brighter through his new home at the YMCA Supportive Housing Campus.
Mark's roots began in Des Moines where he spent his childhood with a drug-addicted mother who "did her best" and a brother whom he describes as an "absent memory." Mark recalls spending many evenings alone during his childhood, even teaching himself to read from a comic book collection he treasured. After his mother passed away when Mark was 17, his life took a turn for the worse when he was sent to live with his biological father in San Francisco until he turned 18. Mark describes his biological father as no more than a stranger with zero interest in caring for his son. And shortly after Mark's 18th birthday and his entrance into legal "adulthood," his father renounced his obligation to keep Mark housed and fed. Sadly at the age of 18, Mark found himself in a daily battle for survival on the streets of San Francisco – with no family support, no home and little hope. Even his treasured comic book collection was stolen while living on the streets and in shelters. When he should have been enjoying his youth, Mark was trapped in homelessness, where he remained for the next 30 years.
Collecting disability from Social Security left Mark with barely enough to stay alive. Still, he tried to scrape together enough to afford a down payment on an apartment. He quickly came to the realization that even with the money for first and last month's rent, he would not be able to financially sustain stable housing in a market rate apartment. He also struggled in the workforce; his mental health from years of instability inhibited him from holding a job long term. But his passion for learning remained, and he filled his days at the local library, expanding his mind by studying math and science. He enjoyed generating different theories on how the universe and world worked, even writing a book, The Federal Colonies, Bringing the Future into Now.
At times during these years, Mark would find temporary housing to stop at and stay for a while. He even returned to Iowa a few times in hopes to reconnect to what was familiar; however, when the seasons would begin to change and the air would grow cold he would have no choice but to travel back down south to warmer temperatures.
Then, in late 2019, Mark took a step toward stability and applied to the YMCA Supportive Housing Campus. At the time, due to COVID-19, unit turnover was far and few between at the YSHC, causing the waitlist to grow long and future community members to bear the consequences. After nearly 18 months of waiting, Mark was finally able to move to his new home in May 2021. He was surviving in Austin, Texas, calling nearly every day in hopes that an apartment would become available. Fast forward to the present, Mark has maintained stable housing for nearly 9 months. Even so, 30 years of experiencing homelessness still creates waves of anxiety that something will happen to his personal being or belongings. The peace he feels from having a secure space with a lock and a key helps overcome these fears although he realizes it may be a feeling he will need to manage for years to come.
Independence and respect top Mark's list of why he loves living at the YSHC. After years of struggling on the streets or living in shelters with strict schedules and routines, he now can make his own decisions, own his future and work towards a better life. He regularly meets with a case manager and enjoys looking ahead to his life's possibilities. And while his previous circumstances may have robbed him of opportunities in his younger years, Mark has high hopes that Supportive Housing will allow him to work towards his goals, maybe even an off-campus apartment eventually. After focusing on surviving for nearly three decades, Mark looks forward to spending the next 30 years actually living.