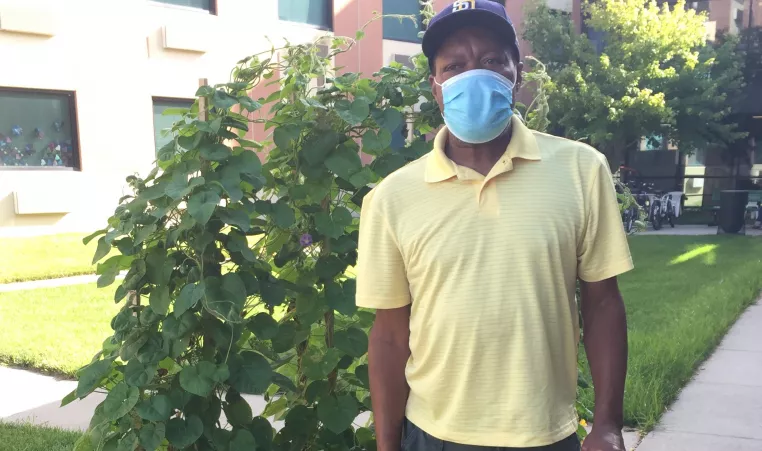 "They said the storm was going to be bad.
So I got in my car with my daughter, my two stepsons and my girlfriend and with one tank of gas we made it 100 miles in one day. The highway was that busy. We made it to Mississippi."
Marlon has called the SHC home for a little over a year. Originally from New Orleans, Louisiana, Marlon found his way to Iowa more than a decade ago when Hurricane Katrina devastated his Southern city. Before moving to Des Moines to be near his sister, Marlon and his young family spent months living in emergency accommodations arranged by hurricane disaster relief. He and his family lived in a FEMA trailer in Mississippi for months after surviving in a large convention center first. The FEMA trailer was inadequate and dangerous, making him and his family very sick from formaldehyde, so they left when Marlon found another way. Marlon shared, "I said, God, I need another way...I never take anything for granted. It was the simple things I couldn't do, for almost a year."
Marlon found work in Des Moines and was able to save enough to bring his family North in just two months. He found the SHC soon after moving to Des Moines permanently. He says of the SHC, "I like it here. Nobody is gonna' let you starve and I like that nobody can be in my room. I asked God for that. I like peace." Marlon said the best thing about his apartment is the kitchenette, as he loves to cook. Two of his favorites to make are Gumbo and Jambalaya. 
Marlon plans to live at the SHC for 4-5 more years so that he can save enough money to go back South. He says Iowans are kind and helpful, but that the winters are difficult and hazardous, particularly because winter conditions make it challenging for him to get around safely. In the meantime, Marlon plans to spend the rest of his time in Iowa making jokes, enjoying the SHC courtyard and spending time with his beloved church community. Marlon loves to sing in his church choir and to crack jokes, he says. He understands: "You live a lot longer if you're laughing."