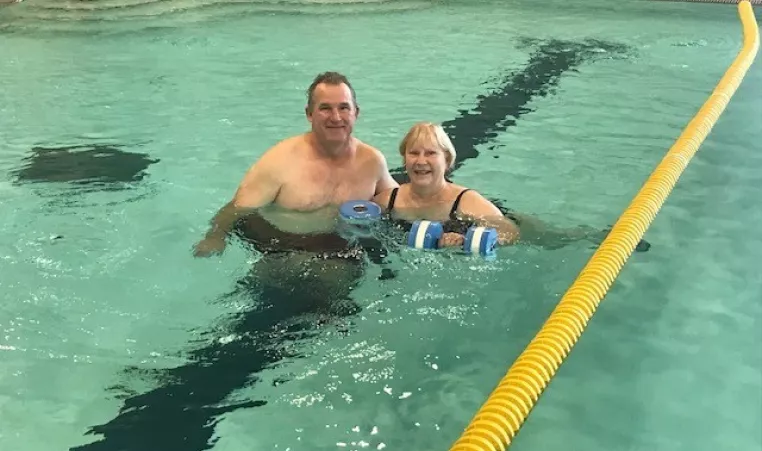 In the middle of a surge in COVID-19 cases, Mary and Tim Bogs joined the Indianola YMCA. Both retired educators, Mary and Tim spend every day together in the water to help with ongoing health issues.
In 2010, Mary was diagnosed with Lupus and was prescribed anti-inflammatory medicine to help relieve her joint pain. However, her medicine caused her to be diagnosed with kidney disease. Since stopping the medicine that helped with her joint pain, Mary often only slept a handful of hours each night. Her doctor encouraged her to try the water.
18 months ago, Tim had a knee replacement after years of joint pain. His doctor also encouraged her to try water exercises.
Since they joined in the beginning of November, Mary and Tim have been in the water together every day. You can find them in both pools trying different exercises and encouraging others on in their Healthy Living journey. Tim enjoys the non-load bearing workouts and has used weights a few times a week for 2-a-day workouts. He was also a softball coach for many years so he knows a good share about workouts and is excited to use that knowledge in helping improve their health.
Both smiling, they share that Mary's been getting a full night of sleep without joint pain, she's noticed her self-confidence has improved, and most significantly, they both agree that working out together has improved their health in spirit, mind and body.
Say hi next time you see them in the water together, maybe Tim will share some workout tips!
Thanks for sharing your story, Tim and Mary! We're thankful for you.