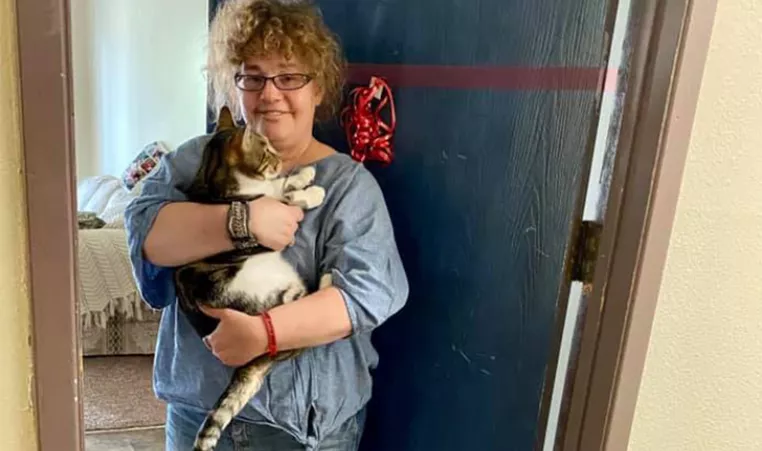 Meet YSHC's most recent graduate, Melanie. A member of our framily since 2013, Melanie has gained a life full of friends and community; developed independence; learned persistence; and achieved clarity of purpose during her years living in our community. Earlier this month, when Melanie joined the YSHC graduate program, she and her cat Truman moved into their very own one bedroom apartment, which she has enjoyed decorating and making it feel like Melanie grew up on the south side of Des Moines with her mother and two brothers. She graduated from Lincoln High School and received her Associate's degree from Des Moines Area Community College. After graduation, Melanie began her first position as a medical secretary, but quickly decided this career was not the right fit for her. Shortly after, she started a new position as a local radio announcer for 92.5 - The Bus. Since then, Melanie has been employed both within and outside of the local community radio industry.

Melanie shares that looking back on her life's path, she has made some important decisions based on her heart and not her head, which resulted in some experiences that tested her and left her unprepared for her circumstances. For example, at age 19, Melanie experienced the difficult journey of teen pregnancy. After coming to the conclusion that she was not ready to be a mother at such a young age, Melanie made the important decision to allow a family member to raise her son in order to give him a life of stability and security that she could not provide at the time. In addition, in 2012, after she and her boyfriend ended their relationship, Melanie found herself homeless. After bouncing from place to place and experiencing a period of home instability, Melanie was able to move into her apartment at YSHC. Here, she found a community full of friends, as well as a space where she could work on achieving personal goals. Melanie adopted her cat Truman, found a job that she is passionate about and has successfully embraced her independence, which led her to the decision to join the graduate program and move into her new apartment.

During the past several years,  Melanie could frequently be found working out in the gym, enjoying the sun in the courtyard, chatting with friends and playing bingo. She almost never missed a Tuesday night meal with her neighbors and the summer BBQ was a must on her social calendar. Now, even though Melanie has moved on to a new stage of her program, she is determined to remain a familiar face around campus through attending the walking club and visiting for coffee with friends. Melanie says she feels that she now has the best of both worlds -- having her own place, yet still being able to call our campus her home!