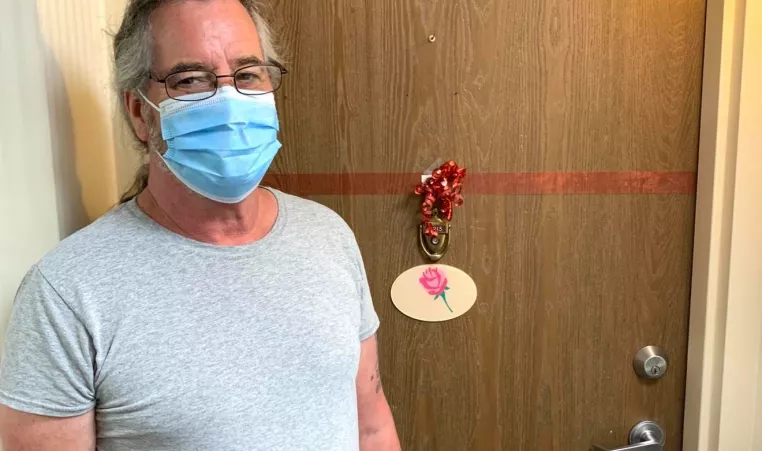 Marine. Deep sea fisherman. Mechanical engineer. Homeless. While these life paths don't seem to go together, in Pat's case, his life's journey led him through all of these unique experiences.
Born in Dayton, Ohio in the 1950s, Pat enlisted in the Marines in 1972, setting in motion an adventurous series of life experiences that eventually brought him into our supportive housing community. "Growing up you knew no one messed with a Marine, to be the best you got to join the best," Pat said. Young and determined, he arrived at boot camp along with 155 other hopeful men, and proudly earned his spot among only 70 men who successfully completed the rigorous training. Over the next seven years as an active duty Marine, Pat carried out his role as a tank gunner and cook. After his M48 A3 Mod 13 tank was phased out of production, Pat said he was ready for a change of pace and decided not to reenlist. Instead, the next phase of his life began as he returned to Ohio to study engineering at Sinclair Community College. After graduation he found himself presented with a unique opportunity to become a deep sea fisherman along the Gulf Coast, and for the next six years, he embraced the travel opportunities he'd missed after his discharge from the Marines. As a hook-and-line fisherman, Pat traveled from the Carolinas to Florida catching grouper and snapper for three to four weeks at a time, only returning to land for a short hiatus until the next expedition. However, this adventure ended abruptly with an oil spill in the early 1990s, which killed all the fish in the area and eliminated his livelihood.
Not one to shy away from a change, Pat said his "prayers were answered" when he found an ad in a trade magazine that read "Jobs in the Midwest. Mechanical Engineers Needed!" Pat packed his bag and headed to Omaha, Nebraska, on a Greyhound bus and quickly landed an engineering position at a Farmlands Pork Producer where he worked throughout the mid 1990s.
Sadly, it was during this time that Pat suffered a tragic loss in his family that would bring him to Des Moines, where he lived in his apartment for 14 years with his furry companion, a rescue kitty named Isis. An ideal home and location, Pat remembers how much he loved his apartment in Des Moines, but as the area around his home developed and gentrification took over, the rent began to increase and on a cold night in December, he was evicted and forced into homelessness. Alone and with limited financial resources, Pat said he placed Isis with a neighbor, who proceeded to take him to the Animal Rescue League without Pat's knowledge or approval.
During this tumultuous time, Pat found shelter at Bethel mission and Central Iowa Shelter and Services for four months while waiting to move into the Supportive Housing Campus. After moving into his apartment Pat knew nowhere would truly be home until his furry companion was back with him. So, he began to scour the local shelters; he called and visited every one in the area until finally he found him. When the two were reunited Isis leaped into his arms thrilled to see his owner again. Even though Pat had lost all of his belongings due to his eviction, he now had what he needed most; a safe place, a community and his best friend.
Fast forward to the present, and Pat has recently become the 12th amazing resident to join our Graduate Program. After living at the YSHC for two years, Pat said he felt ready to move into an apartment off campus. Sadly, his cat Isis -- who helped him get through so many hard times -- died last year at the age of 18. .After nearly three months, Pat was ready to provide a safe and secure place for a cat without a home, just as the YSHC had done for him. In June, just a couple of months before moving into his new apartment, Pat rescued Pharaoh. "Pharoah is young and has a lot of energy," Pat said. "I knew he needed more space to run around. He grows bigger every day." The two are still settling into their new living space and are enjoying the extra room. Pat is most thrilled about his new kitchen where he can fully embrace his passion for cooking again. He is thankful for the support and community that the YSHC offered when his life went through this difficult and unexpected change and looks forward to continuing to be a part of the YSHC forever family by visiting and volunteering at our campus from time to time.