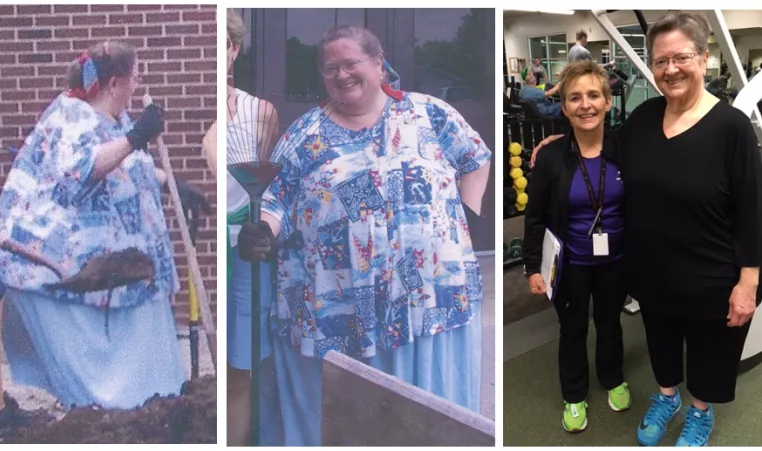 We were thrilled when Personal Training client Elaine Merical and her husband sent our Wellness Director this kind letter. Elaine and Kary have been working together for years, through weight loss, surgeries and illnesses. Kary's encouragement and positivity has helped Elaine and her husband create healthy habits in spirit, mind and body. Thank you Elaine for sharing this inspirational testimony!
Dear Tim,
We would like to tell you a little of our experience with our personal trainer, Kary Austin, for you to share with others at the YMCA. We have known and worked with Kary mostly at the Waukee Y for many years, even before the new Y was constructed.
When Kary and I were first matched as trainer and client, I weighed 411 pounds. It was difficult to cope with the emotions of those first days and at various stages of the weight loss, but Kary is wonderful at encouraging me and adjusting the exercises to suit my needs.
She has been with me through several surgeries and illnesses over the years and has kept me going regardless of the roadblocks or detours we've faced. In fact, she carefully adjusted my workouts during each of the post-surgery physical therapy phases where my shoulders were in cumbersome braces or some other body part was mending so I could continue to exercise each time at a safe level. Hospital staff has commented on my strength and rate of improvement after a surgery or illness, and I always give credit to Kary for making it possible for my workouts to continue throughout any treatment programs.
She encourages you along the way, supports you to keep you going a little further and suggests alternatives so the workout doesn't get dull or monotonous. She thinks of creative ways to prepare muscles for support prior to surgery, for recovery after an injury, for preparation for an event like a trip with a great deal of walking or other more challenging events such as races or climbs with some of her clients.
My husband wonders at her ability to always be so positive. She brings new ideas to the workouts to keep the routines fresh and is really knowledgeable about how an exercise moves the muscles and bone structures. He'll mention an ache or pain, and she will bring out just the thing to provide an exercise that is a remedy for it.
We both think of her as "a little fireball", a dear energy-filled friend! She is definitely a wonderful ambassador for the YMCA, so full of energy and personality, and eager to help others get and stay healthy!
Sincerely, 

Elaine Merical
If you're interested in getting paired with a personal trainer, visit dmymca.org/personaltraining and fill out the no-commitment questionnaire!