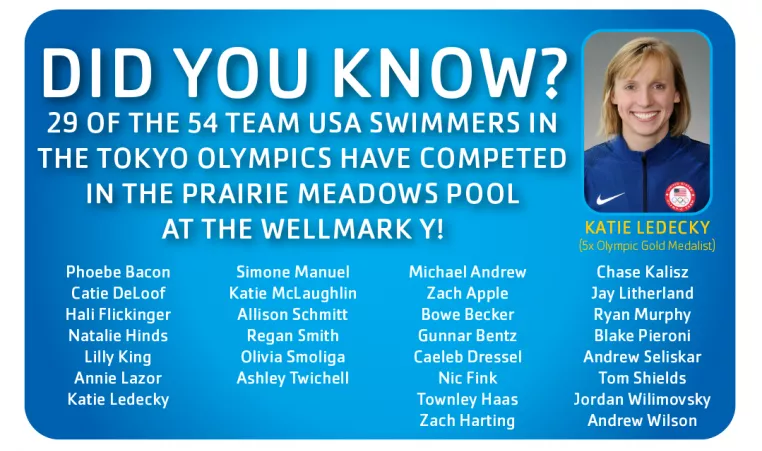 29 of the 54 swimmers on Team USA at the Tokyo Olympic Games have competed in the Prairie Meadows Pool as part of the TYR Pro Swim Series events in 2019 and 2020.
We watched Katie Ledecky crush the field in the 1500 and 400 meters, Caeleb Dressel claim the title of Fastest Swimmer in the World with his time in the 50 free,  world record holders Regan Smith, Lilly King, and Ryan Murphy defend their turf … and up-and-coming stars like Michael Andrew, Gunnar Bentz, Andrew Seliskar, Zach Apple and Hali Flickinger take their turn in the spotlight. Now we'll get to see what they can do in Tokyo!
A number of international athletes who made the podium in Des Moines also will be competing for their countries in Tokyo, including Kristel Kobrich of Chile (women's 800 and 1500 free). Farida Osman of Egypt (women's 100 butterfly and 50 and 100 free), Marwan El Kamash of Egypt (men's 400, 800 and 1500 free), Siobhan Haughey of Hong Kong (women's 50, 100 and 200 free), Jacob Heidtmann of Germany (men's 200 free and 200 and 400 IM), Marius Kusch of Germany (men's 100 butterfly), and Katarzyna Wasick of Poland (women's 50 free). 
Will the TYR Pro Swim Series return to Des Moines in 2022? That decision won't be made for a few months, but certainly, Des Moines has proved that it's a great place for world-class swimming competition!
 
Here is the list of all who competed in the Prairie Meadows Pool at Wellmark YMCA, that made it to team USA in Tokyo.
Phoebe Bacon
Catie DeLoof
Hali Flickinger
Natalie Hinds
Lilly King
Annie Lazor
Katie Ledecky
Simone Manuel
Katie McLaughlin
Allison Schmitt
Regan Smith
Olivia Smoliga
Ashley Twichell Michael Andrew
Zach Apple
Bowe Becker
Gunnar Bentz
Caeleb Dressel
Nic Fink
Townley Haas
Zach Harting
Chase Kalisz
Jay Litherland
Ryan Murphy
Blake Pieroni
Andrew Seliskar
Tom Shields
Jordan Wilimovsky
Andrew Wilson