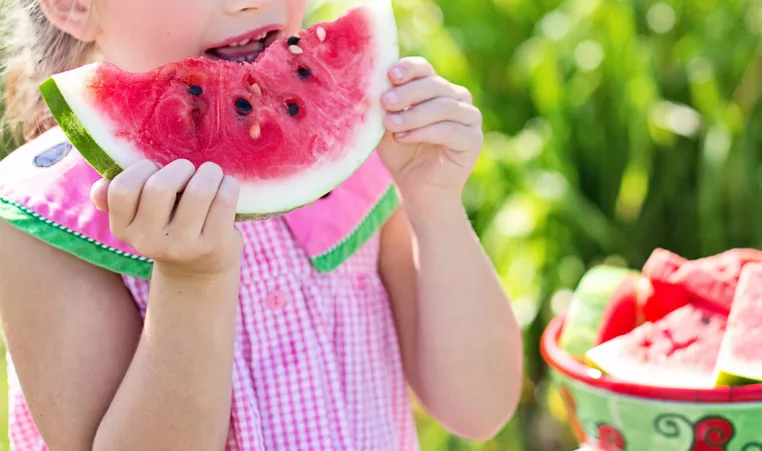 Kids and grown-ups usually have conflicting opinions on what makes for a good meal. Simply our getting everyone fed and on to the next task can be a looming daily chore. Parents often worry about how to help their children understand the importance of healthy eating, while simultaneously juggling all the to-dos of the day. If you're unsure where to begin, we've got some tips and tricks for you!
Develop a strategy.
Creating a plan for talking to our kids about food is the first step in developing healthier eating patterns for the entire family. Think about your food beliefs and biggest eating habit concerns, and make a list of the most important things you want your kids to know about healthy eating.
Lead by example.
Model the food selections and eating patterns that you want to see in your children. If taste and convenience are the sole factors that determine what you eat, your children will learn to make their choices based on the same things. Your children (from toddler to teenager) will learn so much more from watching you than from listening to your instructions.  
Involve kids in food shopping.
Make a meal plan for the week, and let your kids assist. Talk to your children about the recipes and foods you've chosen and let them participate in the shopping. From younger children simply holding the grocery list to older kids helping to find sales and calculate prices, there are so many teachable moments at the store. 
Involve kids in food prep.
Include your children in the kitchen! By being involved, kids can learn that chicken in the slow cooker isn't all that different from chicken nuggets. It might get a little messy, but let your kids measure ingredients, fetch items from the refrigerator and even wash dishes as you work. 
Give kids choices.
While being a short-order cook for your family members is not recommended, giving kids some options can encourage them to expand their food horizons and improve their attitudes about new foods. For example, if they aren't a fan of the fruit being served, let them grab an apple from the refrigerator, but don't let them skip eating fruits and veggies altogether. Allow kids to fix their own plates with the general rule that they have to get at least one bite of all the foods being offered (or an approved substitute). However, don't require them to eat everything on their plate. Empower your kids to make their own decisions and learn from the consequences. 
Try, try again.
Be patient, but persistent. It can take from five to as many as 50 tries before a child will accept a new food. For children 3+ years old, continue to offer them one or two new foods per meal and make certain you try them as well. Kids can be picky eaters, but so can adults! If your child continues to have major aversions to entire food groups or textures or experiences gagging or vomiting regularly when trying new foods, seek your pediatrician's advice. Food allergies and sensory disorders can affect the eating habits of children and sometimes "picky eating" can be masking a bigger issue. 
Eat together at the table.
Giving a meal its own designated time slot in our hectic schedules shows children it's important. When we rush through meals, we tend to make poorer food choices and overeat. Teach your children early on that gathering as a family and devoting time to the preparation and consumption of meals is foundational to healthy living. For ideas on how to get the conversation started at your table, check out these Y-USA questions to ask your kids at dinner!
Food likes and dislikes are personal.
There is no perfect formula for healthy eating, and there is no magic pill for creating better habits. But making small changes over time, choosing our battles with picky eaters, and including our kids in preparation can bring healthier—and happier—mealtimes to our families. Bon appétit!
How do you help your children to be nutrition-savvy people?